SINGAPORE: Electricity retailer iSwitch will soon cease operationsdue to "current electricity market conditions", said the company in an email to customers on Wednesday (Oct 13).
Its electricity retail operations will end onNov 11 and customers' electricity supply will not be affected, iSwitch said.
From Nov 12,customers will have their accounts transferred to SP Group.
"We are currently working with EMA (Energy Market Authority) and SP Group to ensure a smooth transfer of all our existing customers to SP Group," said iSwitch.
However, if customers would like to switch to another retailer, they may also do so at any time, it added in an FAQ section on its site.
Related:
Electricity tariff for households to increase by 3.1% for October to December period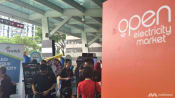 Open electricity market to be extended to rest of Singapore from Q4 2018
"Over the past 6 years, iSwitch Energy has had the privilege of serving the Singapore Electricity Market and collectively saving consumers over S$150 millionon their energy bills against the SP Tariff," said the company.
"We have also helped maintain focus on sustainability and the green goals that we know are so important to all of you."
In June 2019, green electricity retailer ES Power transferred all of its business and residential consumers amounting to more than S$15 million in electricity retail contracts toiSwitch due to stiff competition in the local market.
Red Dot Power, another energy provider, also announced its exit from the market in the same year.
An iSwitch customer who only wanted to be known as Mrs Tan said that she was surprised to find out about theclosure after receiving an email from the company.
"I was rather surprised to receive it as wed just signed a contract with them in April this year and was under the impression that wed be staying with them for two years," said Mrs Tan.
"With this switch to SP Group, well likely be looking at switching to another retailer after doing some comparison and research – especially after the recent announcement that electricity prices will be going up."
Last month, it was announced that the electricity tariff for households will increase by 3.1 per cent for the October to December period this year, compared with the previous quarter.
Theriseis due to the higher cost of fuel for producing electricity by the power generation companies, according to SP Group.
90,000 CUSTOMERS AFFECTED
In response to CNA's queries, EMA said iSwitch has around 90,000 household customers, which account for about 6 per centof total household consumers in Singapore.
The authority said it had beeninformed by iSwitch that the company was not able to novate, or transfer, its customers'contracts to another retailer.
"Customers will therefore be transferred to SP Group," said EMA.
Under the Code of Conduct for Retail Electricity Licensees, iSwitch is required to first approach other retailers to take on their customers under the same contractual terms and conditions.
Under this arrangement, iSwitchs customers would then be given the option to accept or reject the transfer, or switch to another retailer of their own choice, saidEMA.
"If iSwitch is not able to novate their contracts to another retailer, its customers will be transferred to SP Group," it added.
Households and small businesses with an average monthly consumption of less than 4 MWh will buy electricity at the regulated tariff, while larger businesses with an average monthly consumption of at least 4 MWh will buy electricity at half-hourly wholesale prices, said EMA.
No early termination charges will be levied on customers with iSwitch, addedEMA.
"iSwitch is required to promptly refund any remaining security deposit and/or credit balance owed to the customer upon contract termination, no later than one month from the settlement of the customers final invoice."
Source From: https://www.channelnewsasia.com